Recruiting for Enterprise Marketplace Partner Program
The Marketplace Partner Program is a network of freelance agents/salespeople scattered around the island; they're tasked with selling digital products under the
Marketplace platform
. The marketplace is the brainchild of
Idea Mart
, the tech arm of Dialog Axiata PLC.
A few well-known Marketplace digital products are Bulk SMS solutions, Location-based digital advertising, Corporate RingTones, and Employee tracking solutions.
We were tasked with recruiting & building the agent network for the Partner program. We started promotions in August 2021 (This is an ongoing project).
Platforms used: Facebook & Instagram
Results as at 2023 April:
• Over 250 people have been successfully signed up to the program after examining over 2000 applicants.
• Over 800 medium & large businesses currently served by the partner network.
• Over 250,000 potentials were targeted.
• Over 2.5 million impressions generated.
• Over 1 million engagements on ads and posts
Special Techniques utilized:
– Created content around current and relevant financial issues.
– The messaging on ads were thought provoking & emotional marketing was at the forefront.
– Testimonials from already existing successful partners were used as motivation to bring in more quality leads to the program.
– A special team was assembled to handle all inquiries, complaints, and questions from potential applicants.
– Created engaging content that encourages people to interact with the brand. This helped us increase our organic reach and also jumpstart our paid reach saving ad dollars for our client.
Unique challenges
We had to be careful with our content language as this partner program is freelance. Ideally, we had to use words like 'extra income', 'side hustle', 'more money' etc. And due to the strict advertising rules of Facebook Audience Network we had to avoid these types of direct words & phrases. To find a work around, we examined the artworks and captions we posted on month 1 and recognized precise words, phrases, and images to avoid. We have been capable of delivering our message to the target audience without restricting our content by conducting that research.
Another study was conducted to determine what type of content works well after we discovered that not every content receives an equal ratio of engagement as well as inquiries, even though the budget we apportioned was identical for all content. This research assisted us in determining the actual potential pitfalls that people are looking for in relation to the country's situation.
By classifying this problem, we have been capable of generating more messages than we had previously. We only received 30-40 messages per week at first. However, by experimenting and finding the right content mix, we expanded the number of messages from 30-40 per week to 300-400 per week. And most importantly the quality of leads increased.
Perhaps the most significant challenge was dealing with inquiries & shortlisting potential candidates for the partner program. As this program is about earning extra money, almost everyone who views our post, comments or inbox us wanting to know more info. Everyone who came across our advertisements desired to participate in the partner program, and they ranged in age and knowledge level. With those gaps, it was challenging to introduce the service and get their inquiries. Each day, the marketplace team received hundreds of inquiries, resulting in a queue for responses. To avoid acts or omissions, we created multiple message templates in Sinhala and English to illustrate the entire process from beginning to end. In addition, we established a separate team to review the inquiries, select the appropriate profiles, as well as train them to become partners. This greatly aided us in avoiding the queue, providing an effective service to users, and assembling a powerful team of partners all at the same time.
Another significant challenge was persuading people to believe in this type of service. To avoid this problem, we created a "success stories" section by gathering real testimonials from partners who have already had accomplishments with the partner program. This enabled us to establish trust in the marketplace partner program and generate more inquiries.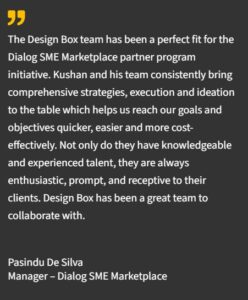 Marketplace Partner Program's success story is one of many, get in touch with us to know how we can help elevate your brand. Contact us via email at info@designbox.global or phone +94775685495